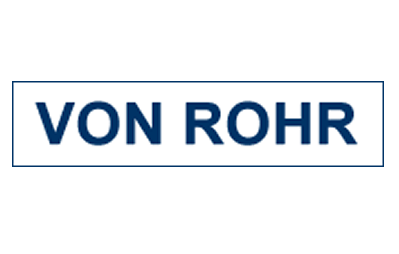 As a specialist in pneumatic and electrical control valves, «von Rohr®» has a name which guarantees high-precision and high-quality products since 1954. von Rohr Armaturen AG
The range we produce covers a broad spectrum of low-cost standard valves, furthermore we are glad to put our know-how to good use in manufacturing to special order. Our team of highly qualified engineers and technicians can find professional and innovative solutions to every customers' needs.
Spectrum of use:
Chemical industry, bio-technology, pharmaceuticals (sterile plant)
Petro-chemicals, natural gas
Paper, cellulose
Food and beverage
Energy, power stations, district heating
Waste disposal, municipal facilities
Textiles, dyeing
The installation, commissioning, and follow-up service work is carried out by our highly trained staff. Thanks to this comprehensive full service we have been able to create the best possible customer relationship and can solve regulating-problems within a very short time, and also take them into account in the further development work on our valves.
Von Rohr Product Range:
8B-series Single Seat Control Valve
9-Series Sterile Control Valve
5-Series Food Industry Valve
1-Series Floor Outlet Control Valve
Intelligent Positioner Type 824
Intelligent Positioner Type 827A
8B-series Single Seat Control Valve
DN 15 – 150, PN 16 – 40
The modular design allows a wide variety of variants to be produced from a small number of components: soft-sealing, bellows seal, extension bonnet, heating jacket, etc.
Compact, space-saving design and sturdy construction
Twin stem guides

Download PDF
9-Series Sterile Control Valve
DN 15 – 50 (80), PN 10 (63)
Design with no dead-space for total sterilisation
100-percent leakproof from the outside, and with diaphragm seal on the inside
Made of W1.4435 stainless steel, electrolytically polished

Download PDF
Intelligent Positioner Type 824
Positioners improve the control accuracy of valves and butterfly valves considerably.  Friction in the stuffing box and fluid born fluctuations to the spindle cause deviations in the valve position.  These are balanced out by the positioner.

Download PDF
Intelligent Positioner Type 827A
The ARCAPRO Type 827A positioner is a valve positioner of the second generation, which is characterised by substantially increased functions, higher reliability and extended diagnosis.  It has been designed as a compact instrument with a modern and practical design, providing for a reliable operation even under very rough ambient conditions.  The display is also visible during operation, so that the operating data can be checked with a quick glance at the instrument

Download PDF