ECOM Instruments Products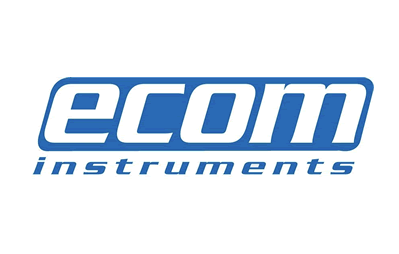 For more than 20 years ECOM Instruments has been a worldwide supplier of mobile devices for industrial applications in potentially explosive areas.
1986 On the 1st of July in 1986 ECOM was founded as a 3-person-enterprise for development of electronic-controls and electronics on behalf of the explosion protection.
1990 First self developed ECOM product, the Ex-mAG 21. Introduction of Calibration product range.
1991 Introduction of Measuring product range.
1995 ECOM got the Certification of Quality-System according to DIN-ISO 9001.
1997 Approval of quality assurance and production according to ATEX.
1999 Introduction of Communication, Torches & Handlamps, and Data Processing Technology product ranges.
2000 Expansion of head quarter, doubling of capacity, number of employees increased to over 70.
2002 Introduction of Mobile Computing product range.
2006 Construction of new facilities doubling the previous building
Whether in Europe, Solid, safe and streets ahead…with Camera in a class of it's own!
This durable and reliable ATEX Zone 1 & 21 mobile phone is packed with new features that deliver world class connectivity, flexibility and safety. The phone also comes with an extended battery option, but vibration alert and exceptional build quality are standard. Over the air configuration for Wap, MMS and Internet.

 Download PDF
Reliable and safe communication is essentialto your everyday work in ex-hazardous areas. The Ex-Mobile 06 is an ATEX-certified mobile phone for use in Zone 1 and Zone 2 and Zone 21, and always provides you with the necessary safety for your work.
The compact housing and the integrated rubber parts provide you with a perfect grip and also deliver protection against dust and shocks in accordance with IP54 protection rating.

 Download PDF
The ecom i.roc x20 -Ex is a high performance industrial PDA based on Windows Mobile TM, with compact external dimensions, an integrated WLAN, USB, Bluetooth TM and an IrDA port.

 Download PDF
Ex-PMR 1000 – Intrinsically-Safe Two-Way Radio
The Ex-PMR 1000 is a license and charge-free two-way radio for wireless communication in Ex-hazardous areas. The frequency band ranging from 446.000 MHz to 446.100 MHz was opened for public use by the ERC with the publication of its decision ERC/DEC/(98) 25, 26, 27 dated 1 December 1998 and charge free.

 Download PDF
Ex-PMR-2000 – Intrinsically Safe Professional Mobile Radio
The Ex-PMR 2000 complies with the latest standards and may be used in areas with the protective ratings of Ex II 2 G Ex ia IIC T4 in Zones 1 and 2, in accordance with ATEX directives.
This professional radio operates in two different frequency bands and is available in either the VHF 136-174 MHz or the UHF 400-470 MHz version. The radio's transmission power has been limited to 1.2 watts for safe working in potentially explosive areas and initiating calls even over large distances

 Download PDF
87V Ex – Intrinsically safe multimeter
For reliable safety inside the Ex-hazardous area: the multimeter 87V Ex. With the robust holster the unit is well protected – even in the toughest conditions

 Download PDF
725Ex – Intrinsically safe Multifunction Process Calibrator
The 725Ex is powerful yet easy-to-use. Combined with the 700PEx Pressure Modules, the calibrator is able to calibrate almost any process instrument likely to need service in an ex-hazardous area.

 Download PDF
707Ex – Intrinsically safe Loop Calibrator
The fast, one-handed tool for loop checks in ex-zones!

Download PDF
Lite-Ex PL 30 – Intrinsically-Safe LED Torch / Flashlight
The Lite-Ex PL 30 LED high performance torch is especially designed to withstand daily use in industrial environments and with the new 'ring-switch' mechanism, operation is made quickly and easily. Certified for use in Ex-hazardous areas of Zones 0 and 20 according to Directive 1999/92/EC (ATEX 137)!

Download PDF
SHL 300-Ex – Intrinsically-Safe rechargeable Handlamp
The SHL 300-Ex is a robust Handlamp specifically designed for industrial environments and the fire-fighting services. Certified for use in potentially explosive areas of Zones 0 and 20 in accordance with Directive 1999/92/EC (ATEX 137), this Handlamp boasts a number of innovative functions that maximise the use and ease of operation.

 Download PDF